UX / Site Redesign & Branding Case Study – Digital Marketing Company
Take 5 Marketing Group is a data company experiencing rapid growth. Their clients include major automotive dealers, retailers, education facilities, healthcare, tourism and more. They produce email design, banners and landing pages, but they are known primarily for the data they provide on shopper behaviour and demographics.
My role was designer and developer working with stakeholders, including the art director, marketing director, sales team and owners. This is not a UX or design-thinking environment but provides a story for how a UX philosophy could open up many possibilities for this company in the future —and not just for the website, but for everything they do.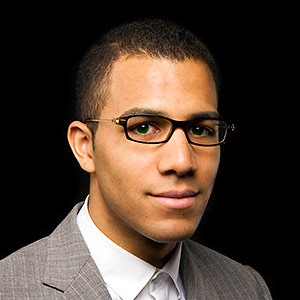 The Sales Team is the User
The sales team is a large diverse group ranging in age from early 20's to 50's. Their main complaint was that prospective clients were visiting the old site and were confused about what the company did. They spent too much time having to explain everything and they wanted a web presence that would educate and help to reduce call load. In addition, the competitors' sites looked better. They felt they had to redesign to stay competitive and gain trust.
The sales team is the "user" and the site is a tool to generate more sales. Most of the traffic to the site is mostly internal at this point. But as more traffic is driven organically, other user personas & stories can be generated and the site can be assessed again.
The Old Site
The old site was a very long, one-page brochure built in WordPress using the Divi theme. There were a number of issues with it. First, the hero slider was populated with posed stock photos and headlines were long, wordy and vague. Icons were meaningless. The content was an intimidating monolith of self-referential jargon. In short, it explained nothing, and the only CTA was a form at the bottom of the page.
Requirements
A more exciting, engaging and professional brand identity
What they do needs to be immediately clear
Create educational and SEO-friendly content
Create very clear CTAs in relevant places
Reduce calls for sales team
Convey creditability in comparison to their competitors
Have a scalable CMS and blogging platform
Site Architecture / Content Curating
The challenge here was explaining everything this company did in a way that didn't overwhelm the user. And there is a lot. It's also a jargon-heavy industry. I worked with the art director and marketing director to collect or create the content, including taglines and CTA message. The site architecture was built as the content was delivered quickly. I wireframed on the fly — using sharpie and paper, my go-to method, as well as Illustrator and Sketch.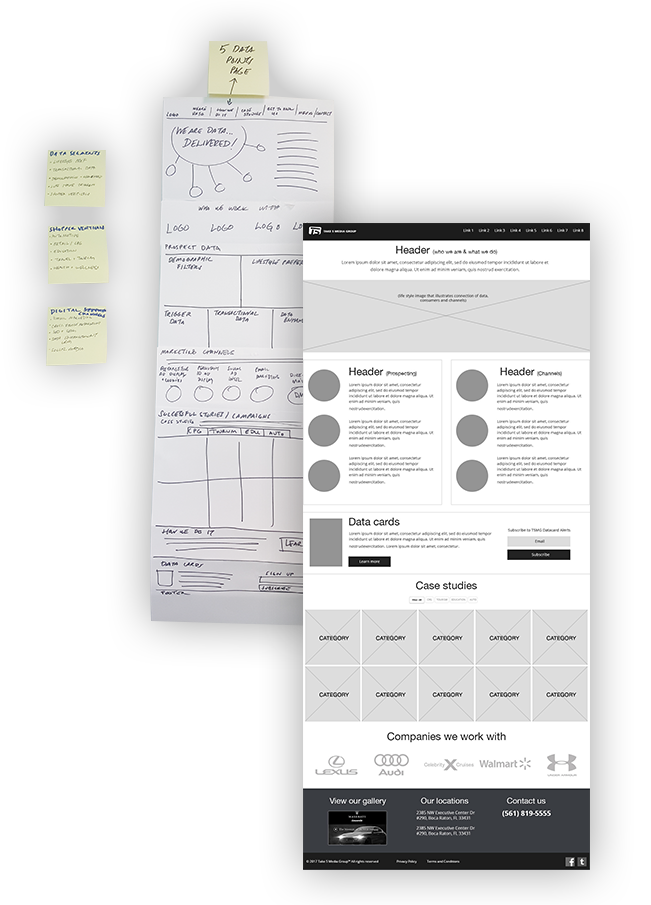 Pixel-Perfect Iterations of Homepage
We quickly moved to pixel-perfect iterations instead of wireframes because of the speed we were working at, and the fact we were art directing at the same time. The homepage was tackled first and set the direction for the rest of the site. These iterations were built in Photoshop. We mocked-up 30 versions. Challenges we tackled were taglines, headings, services copy, showcasing case studies and a creative gallery all from one page. It was also a challenge to essentially create the architecture and content strategy while designing was well underway. We also wanted to create a visual connection in the user's mind between data, marketing and shoppers.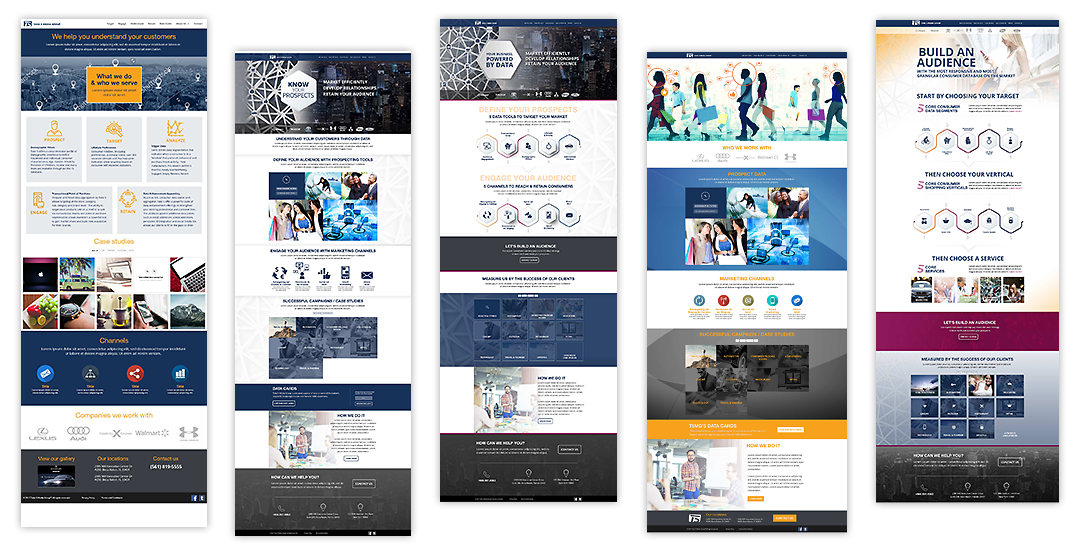 Final Design
The site was launched in April 2017 to rave reviews from the stakeholders. It was a major win for the company — traffic spiked from 0 to 500 daily, as the sales team immediately started referring it to clients. We are making progressive enhancements daily by adding new content and hiring an SEO / SEM firm to manage our blog on a weekly basis. With their help, we've put in place a social media strategy that links back to the site along with sharing relevant posts on LinkedIn. We've also installed Google Analytics and will be testing site performance. Future plans include integrating their other sites and redesigning their extensive survey system.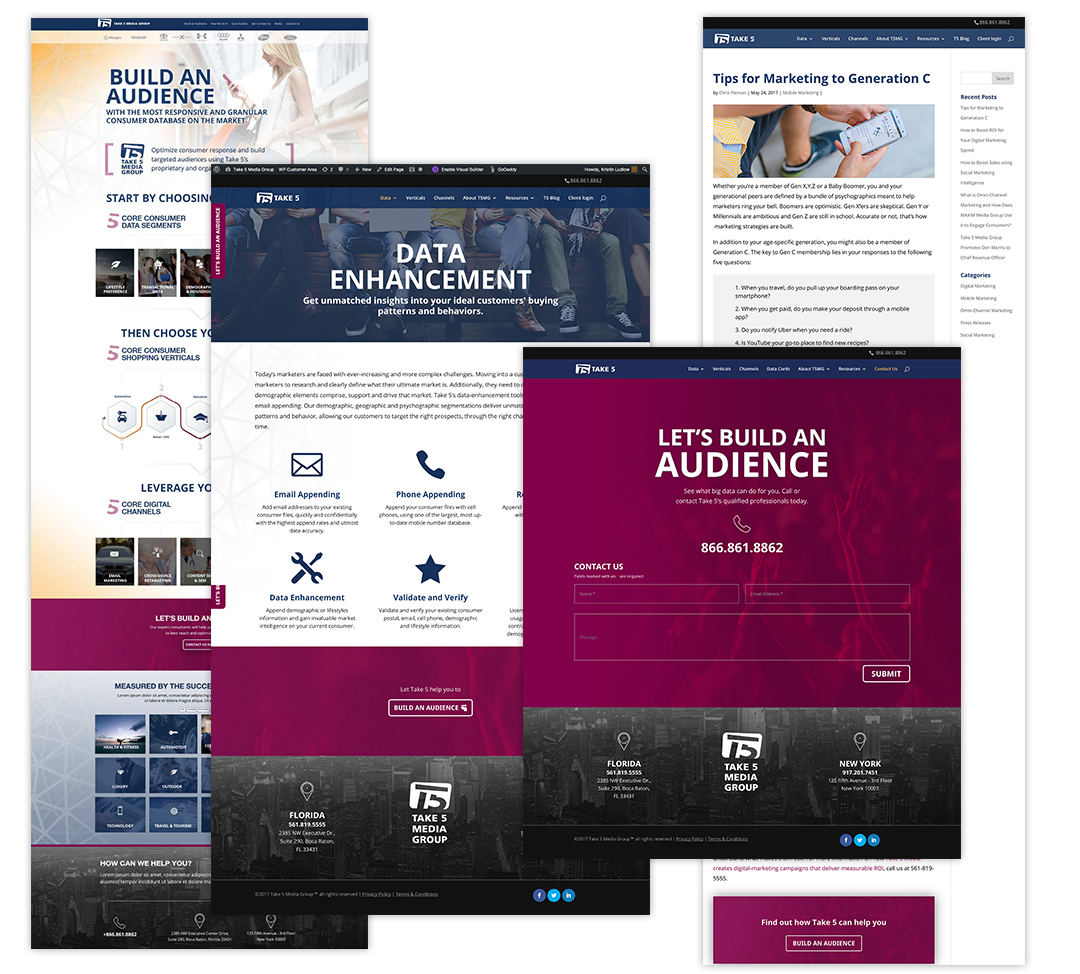 Summary
The goal was to redesign the site in such a way that the sales team — the main users at this point — could have an attractive tool to market and to prospective clients, as well as provide information about who Take 5 is and what they do. Since the site has launched it is growing rapidly with new content via pages and a blog. Traffic has spiked and continues to rise, and the sales team has added more associates in both the Boca Raton and NYC offices. Feedback from the Director of Sales is that clients are more educated on calls.
My Personal Win
Seeing a company run by great people struggling to find their identity while they grow rapidly — and FINDING it — is so gratifying and why I do what I do. The new site has created an air of excitement for the team, and suddenly new possibilities are opening up such as new photography, client portals, online galleries and much more. There is an optimistic air of — dare I say it — design-thinking for the team and we are currently looking into researching, evaluating and improving our inner processes for a better client experience overall. #UXfortheWin